Email2SMS – How it Works
Three simple steps to get started
Within your Sendmode account go to Settings -> Email To SMS tab.
Add one or more email accounts that are allowed to send SMS from your account.
This is verified for security before sending.
From any email application type in the mobile number followed by @e2s.sendmode.co.za
(ex.
[email protected]
).
Complete the e-mail subject and message information and send as normal.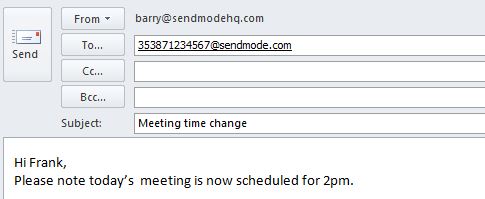 The email is converted to SMS by Sendmode and delivered to the mobile number handset.
An SMS credit is deducted from your account and delivery report is created for audit and tracking purposes.